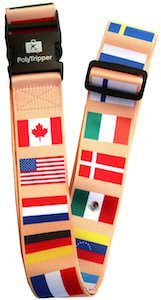 If you are ready to travel the world then add a luggage strap to your suitcase to make it easy to spot and prevent it form accidentally opening. This is a flags of the wold luggage strap is something to check out.
The luggage strap has a cream color background color and o top of that you can find many different flags and that makes it perfect for a world traveler like you.
The flag luggage strap is 2 inches wide and 68 inches long and is adjustable in size to make it fitting perfectly around your bag. And the strong buckle will keeps close but is still easy enough to open.