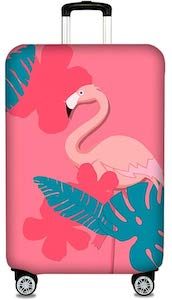 Now there is a fun pink flamingo suitcase cover you just have to see.
The suitcase cover is available in 4 sizes to fit perfectly around your suitcase and material is really flexible to fit snugly around the suitcase and it will keep handles and wheels available so you can travel with it like any suitcase only yours will look cooler and will protect your suitcase from damage.
The cover is pink with one it some leaves and then the flamingo just standing there as you are used to with this kind of birds.