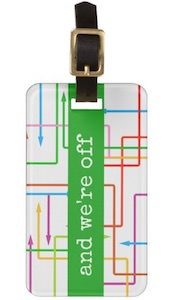 If you are looking for the perfect luggage tag for your suitcase then check out this And We Are Off Luggage Tag.
The luggage tag has fun arrows on the front with a green banner that says "and we're off" but you can change that text if you like. The back is green and can have your info printed on it or you can choose a normal ID card slot like lots of luggage tags have.
The luggage tag has a nice strong strap making it perfect for long time use and all that will prevent you loosing your bags or at least making it way less likely.