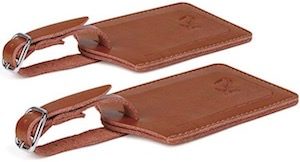 Luggage tags often look awful but now there are these Brown Leather Luggage Tags.
This is a set of two bag tags made by SwissElite from genuine leather and as you can see on the picture they really look nice.
There is a flap in front of your information so that not everyone can just see it without moving the flap.
And if you do like a nice leather luggage tag but don't want brown then you are in luck as you can get these bag tags in different colors too like black and white and 12 other colors so that you can have the tag you really like.