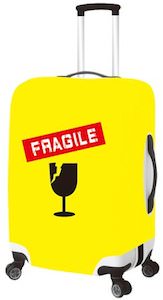 So you are planning a trip and you are taking a lot of things that should be handled with care.
Luckily there now is a suitcase cover that is bright yellow and on the front shows a broken glass and the word "Fragile" on it in a red banner.
Maybe this will help keeping you luggage in one piece but one thing is for sure it will make it a lot easier to spot on a baggage belt at the airport and it will be a lot more difficult for other to steal things out of it as they have to remove the whole cover.