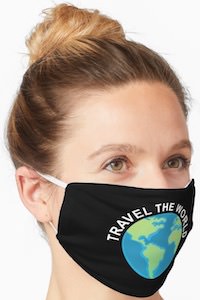 2020 is the year of the mask and that is why you should think of this Travel The World Face Mask.
Currently many countries and airlines want people that fly to wear a face mask and even in the grocery store or even outside face masks are everywhere and a great way to prevent spread of viruses.
This adults sized mask is made for the world traveler it is black with white elastic ear loops and on the front it shows planet earth and then above it the text "Travel The World". And there is a smaller kids sizes available too for little world travelers.
So now you can travel a bit safer and after you use it you can just wash it for future use.