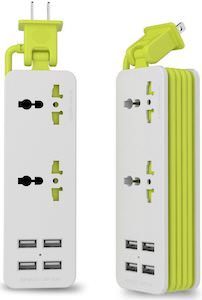 If you travel a lot then you know that there are never enough power sockets in your room and you need to take way to many wires and that is why you want this travel power bar with USB.
The power bar has a build in surge protector and two power plugs with child safety and 4 USB ports of which two can give 2.1 amp and all can give 1 amp. And this power bar has a 5 feet cord that folds around it so that it is compact when traveling and gives you plenty of room to move around.
And the power bar support 100 – 240 volt so you can take it on international travels too (make sure your devices also support 100 – 240 volt).