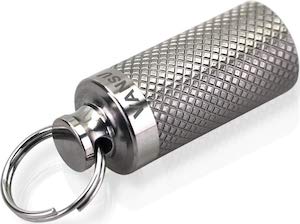 Now you can take your pills on go all thanks to this Titanium Waterproof Pill Holder.
If you need medications or maybe some pain killers where ever you go then you are in luck because this pill holder can be living on your keychain or even on your necklace and it can hold the pills you need quickly.
The pill holder it made from titanium and is waterproof so you can even wear it on a necklace when you are in the shower.
Sure this can not hold all your daily pills but it can take the stuff you need really quickly and that makes this holder really handy to have when traveling or even for everyday travels to school or work.