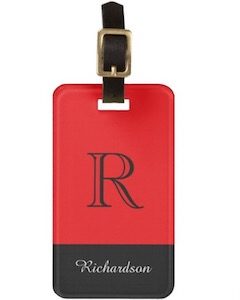 If you are looking for a nice luggage tag for you suitcase then you should check this personalized luggage tag out.
The luggage tag is red and black on the front and on the big red space you find you initial and in the black it can have your name. On the back the luggage tag can have your information printed on it and that means you can never change it or you can choose for the version with an ID pocket with a little card so that you can change it.
So now you have a luggage tag that will be yours forever as it has you name on it.
A bag tag like this can be used for traveling but works great on your sports bag too.