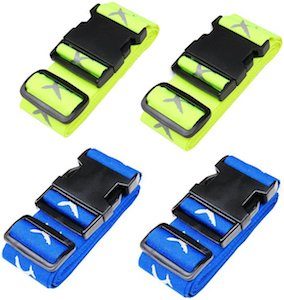 Luggage straps are a perfect way to keep your suitcase closed and easier to spot and now you can have 4 luggage straps and they come 2 colors in the set so you can have blue and green.
And these luggage straps have airplanes on them and are not just simple straps because these are crossed straps and they just button together and have and ID tag on it too so that it is kinda of a luggage tag too.
So this set of 4 luggage straps is just perfect for travelling as you are all set for your 4 suitcase and they straps are adjustable in size so that it fits snug on your suitcase.