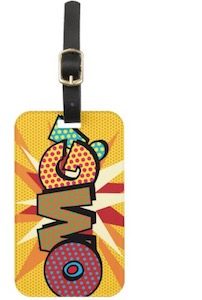 If you want a fun and bright way to spot your luggage when traveling then you just need this OMG luggage tag.
The back of this luggage tag has an ID card slot so that you can keep changing your address information when you are traveling.
And on the front of the luggage tag you find a comic book style "OMG!" that really stands out and that is just a great way to make your suitcase easier to spot next to all those other suitcase that all look the same.
Make sure you never have to loose luggage again and this OMG luggage tag will help.