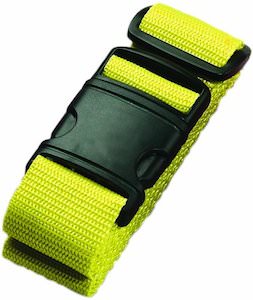 Luggage Straps are ideal for spotting your luggage and if you have a bright colored one that will be even easier.
This luggage strap is neon yellow and is also available in neon green and neon pink and what ever color you choose you will see it.
Just wrap this luggage strap around you suitcase and it will keep it closed in case of an accident with you lock.
Just imagine your boring plain suitcase with a neon luggage strap that will get almost any once attention.
Luggage straps are so easy as they are adjustable in size to get them fit snugly and the make your life easier finding you suitcase.