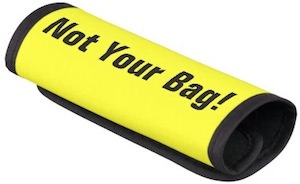 One way to make it real easy to find you bag is using a handle wrap.
This wrap is easy to spot almost anywhere mainly because it is bright yellow and then I mean like a neon yellow.
And this handle wrap says "Not Your Bag!" on it to make it even clearer that it's yours and if you don't like that message then simply change it to something you like.
Besides being great to mark a suitcase these handle wraps are also great for marking sport bags, backpack and they will even fit on your handbag.
No more looking for you bag as this wrap will make it hard to miss.