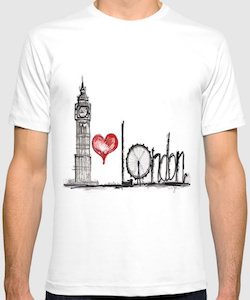 If you want a cool t-shirt about London than this I Love London t-shirt is what you should check out.
The t-shirt is available in men and women's version and comes in many colors and sizes.
On the t-shirt, you can see that it is not just text but the text is made out of some cool drawing. The I of the text is the famous Big Ben clock tower and a heart next to it and the O in London is the big Ferris wheel.
So if you want a fun t-shirt about London then this is the t-shirt you should be checking out.