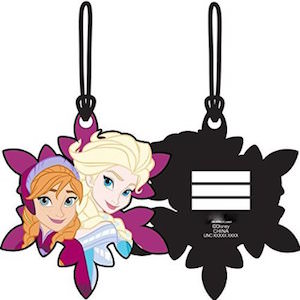 This luggage tag is not the boring square version you most time see.
This luggage tag is cut in a flower or snowflake shape and on that you can find the Frozen sisters Anna and Elsa all friendly and smiling.
On the back the luggage tag offers plenty of room for information and this luggage tag is perfect for kids.
Kids will love it and that means they won't mind if you put it on their school bag or their suitcase and now you have to worry less of them loosing it all because of this Disney Frozen bag tag.