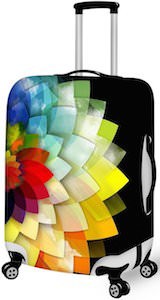 Now you know what you suitcase is as this suitcase cover will make it so much easier to find.
This suitcase cover is black but has a colorful pattern on it that to me looks like a flower.
You can get his cover in different sizes to fit you luggage perfectly.
And not only will you have more personal looking luggage that is easy to spot it also protect it from people opening your suitcase as of course it is a bit more of a hassle to do so specially at the airport.
Be bold be different and make you luggage look amazing with a special suitcase cover.