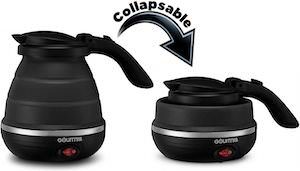 Now you can make a fresh cup of tea or maybe some instant coffee all thanks to this Foldable Travel Kettle.
This electric kettle can run 110 and 240 volts which means you can take it almost anywhere in the world and boil some water.
And this is not just a kettle, this is a foldable kettle so that it takes less space in your travel luggage. And the kettle can boil .5 liter so that you have enough for your afternoon tea or enough hot water to make some noodles or maybe instant soup, or hot cereal.
Now you can have boiling water where ever you go all thanks to this travel kettle.