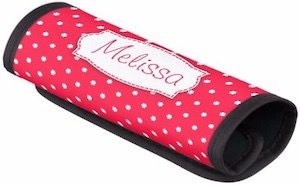 Now you can get this this fun Flower Polka Dot And Name Handle Wrap that is great for your suitcase but also for a backpack for school.
We all know that it is often not comfortable to carry a bag by it's handle but with this comfy handle wrap it will be a lot more fun to carry you bag.
This handle wrap is red with white polka dots on it but they are not dots, if you look closely you will notice that they are little flowers and then there is a big banner on it that says "Melissa" on it on the picture but it will have your name on it if you order one. So if your child is loosing it's bags often then maybe give them this handle wrap so that people know who the bag is from.