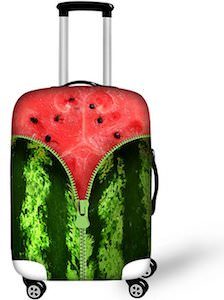 If you have a cool or boring suitcase then you need this watermelon suitcase cover.
The suitcase cover will protect your cool suitcase from damage and will makes you boring suitcase look  really cool.
The suitcase cover is available in 3 sizes and is flexible to fit perfectly around you luggage.
And this suitcase cover looks like watermelon and one that is cool as they printed a zipper on it so that it looks like you are opening the watermelon.
So now traveling will be great because you suitcase will stunning with this suitcase cover and it will also really easy to spot at the airport because not many people have a watermelon suitcase.