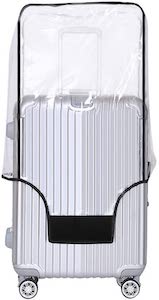 Now you can protect your suitcase with this Clear Suitcase Cover.
If you want to protect your nice suitcase from damage then using a suitcase cover is the way to go.
You can get this clear PVC cover in many sizes so that it will fit perfectly on your suitcase.
Besides protecting your suitcase from damage it will also making it easy to clean because you may think of that when arriving at your destination as it could hold germs and viruses you don't want especially with Covid going around.
And these nice covers do keep handles and wheels available for use and after you use the cover it is easy to store to be ready for next time.