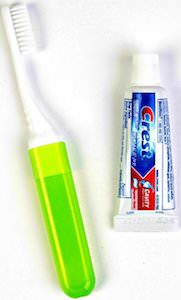 This toothcare set includes a travel toothbrush and toothpaste making it ideal for your next trip.
The travel toothbrush stores the toothbrush head in the handle when not in use so that you don't have to worry about dirty getting on your toothbrush and it also will take up less place in your luggage. Besides a toothbrush, you will need toothpaste too and that is why this set includes a small tube of Crest toothpaste and it is big enough for your trip but too small for everyday use at home.
Thanks to this toothcare set you don't have to have dirty teeth and a smelly breath and those are important while enjoying your holiday.