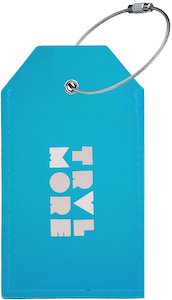 Now there is this Travel More Luggage Tag that is great for on your suitcase.
You can get this luggage tag in a whole bunch of colors and all say "Travel More" on it. The bag tag is made from fake leather and has an ID card inside it that you can only see to open the metal chain that is used to hang it on your bag so that your identity is secure but available when needed.
This is a great looking luggage tag and as you can get it in a bunch of colors it will make it a great way to make your bags more easily to find on a a luggage belt at the airport.