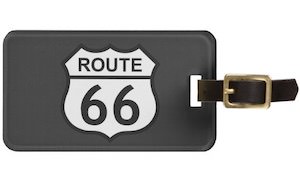 Route 66 is the world famous road through the USA that is such a classic road that it has it's own merchandise and that is why there is this fun Route 66 Luggage Tag.
The luggage tag is black with on the front the famous Route 66 logo just like you would see on a road sign.
On the back you can choose between your personalized information printed on it or you can have the typical pocket that fits a card that you can use to write your info on.
A bag tag like this is great to have when you are doing Route 66 but also just as a tag to hang on your backpack that you take to school or when you travel the world.