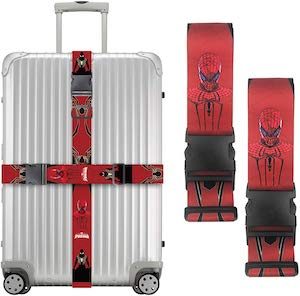 If you are a fan of Spider-Man that likes to travel then you should check out this Red Spider-Man Luggage Strap.
The luggage strap is red and on it you can find Spider-Man, the spider logo and his name .
This luggage strap is adjustable in size so that it fits neatly around you suitcase and it has a big buckle so that you don't have to worry about loosing your strap.
Having the Spider-Man luggage strap around your suitcase will make it much easier to spot your suitcase at the bagage belt at the airport.