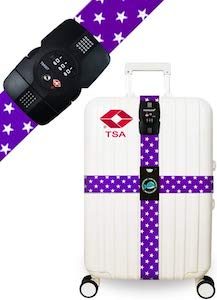 Now you can have a purple and stars cross luggage strap.
The suitcase strap is not just one strap that could slide off as it has two straps that connect in the middle and there is even a combination lock on it that is TSA approved.
So not only does this strap make it easy to spot your suitcase it also protects others from accessing your suitcase and by that it really makes your life a lot better.
And if purple is not your color then just check it out anyways by clicking the Buy Now button as it is available in different colors too.