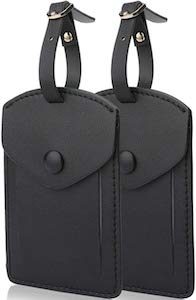 Now you can have a Privacy Luggage Tag that is made for all your travel like plane, train, bus, or cruise ship.
These luggage tags come in a pack of two and are made from PU and they have an double sided ID card so that I can info for two people and there is a flap in front of it that close with a button so that there is plenty of privacy as your information is hidden until used.
And we show you the black version above but you can get this luggage tag in other colors like different blue's pink, brown and more so come check this out.