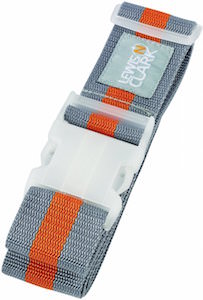 Luggage straps are a great way to make you luggage more unique compared to all those other suitcases on your plane. And yes of course they also help to keep you luggage securely closed if something may happen.
This luggage belt from Lewis N. Clark is grey with an orange line in the middle and if that is a bit to boring then maybe go for the orange one with grey in the middle.
Both straps have great buckles that keep working time and time and yes this strap is easily adjustable to fit your suitcase perfectly.
You can adjust the belt up to 81 inch so that even the biggest suitcase can probably be covered by this luggage strap.