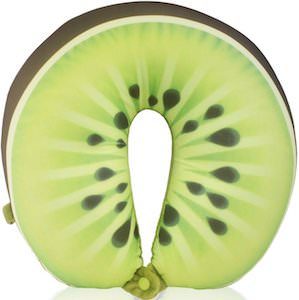 Travel pillow are great for being comfortable while you try to sleep in an upright position.
This neck pillow looks like a kiwi and that would look funny around your neck when you wear it on a plane, train or in the car.
And this travel pillow is filled with micro beads for the ultimate support and comfort.
No longer will you have a sore neck after your trip as this neck pillow will keep everything aligned.
If you like fruit and especially kiwi's then look no further as this travel pillow is just perfect and just what you need.