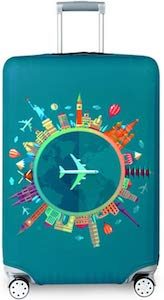 Now you can protect your suitcase with this amazing looking Fly Around The World Suitcase Cover.
The suitcase cover is available in many sizes and is flexible so that it will fits tight around your luggage making it look amazing while making it more difficult for people to steal your stuff and protecting your suitcase too.
This suitcase cover shows a world map in a circle with a airplane in the middle and on the edge of the circle your can find many famous buildings from around the world and even some smaller planes flying above them.
It is a great lookin cover that will work great on your suitcase while keeping your handles and wheels all working as expected.