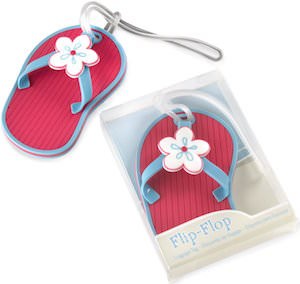 Planning a fun trip to the beach?
Then this flip flop shape luggage tag would be perfect for you.
The luggage tag is like a real tiny rubber flip flop with on the bottom the ID card so that you can tell people who's suitcase it is.
Having a fun luggage tag like this makes it a lot easier to spot you bag.
And you can have fun with it to. Just wrap this luggage tag when you want to surprise someone with that beach holiday you booked for the two of you.
No more boring luggage tag when you can have something as fun as this.