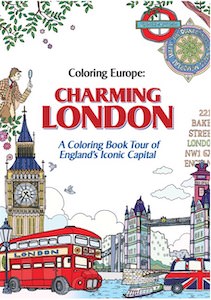 Now you can get this Charming London Coloring Book and get the feeling of London in your home.
Sure we may not traveling the world right now but that doesn't mean you can't experience London all thanks to this coloring book.
Inside the coloring book you will find 60 illustrations for you to color and you can pick the colors and make things look the way you like it.
And besides famous sights they added other things to including famous fish and chips and that just makes it feel like you are on a trip to London without having to leave the house.