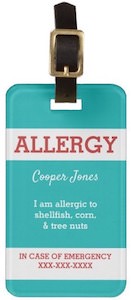 Now there is this Alert Luggage Tag that is just perfect for your kids to have on their backpacks.
This luggage tag is personalized (no extra cost) and on the front it has two white banners of which on says "Allergy" and the other "In Case Of Emergency + phone number" and in between the two white banners it can have your name and the allergies you have.
And then on the back you can have much more information or just you address.
Having this luggage tag you are ready for people to know about allergies and also know who you are and where you belong just like a normal luggage tag.
This bag tag is perfect for kids to have on their school bag so that teachers can see it and also to prevent your bag to get lost.