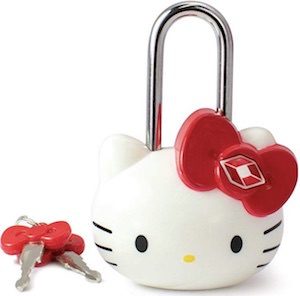 Now you can get this adorable TSA Approved Hello Kitty Lock.
Sure you can get any TSA approved lock but I don't think they look as amazing as this Hello Kitty padlock.
The lock is shaped like the head of Hello Kitty in white with her face and even her red hairbow so that you can easily find your lock if you would use it at a gym or something like that. And the keys of this lock are also Hello Kitty themed as it has the red bow on it which makes it easy to find your key on your keychain.
If you are a Hello Kitty fan then check out this lock as it would look great on your backpack, school locker, and of course your suitcase.