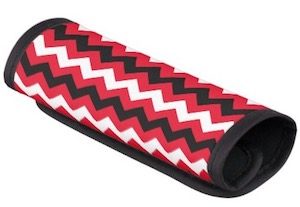 We all know how uncomfortable some handles of suitcases and bags are but now you can add this comfy handle wrap over it and it will be so much better to carry your bags.
This handles wrap is red with white and black zigzag lines and that makes it easier to spot your bag to because not many people will have that design handle on the same bag you have.
Made from neoprene this handle wrap is soft and comfy and would work on many kinds of bags like suitcases, sports bags, or your school backpack.