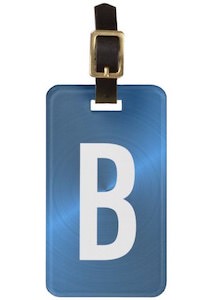 Now you can get this Metallic Look Monogram Luggage Tag and it looks cool.
The luggage tag is available in many colors that all have a metallic look and you can choose the letter or even number you want and then on the back you can have the same metal look and your Information printed on it or you can choose for the typical card slot so that you can change it.
This luggage tag is great for your personal luggage but also a great way to mark you luggage like maybe your work gear can have a special tag so that you know what is in it.