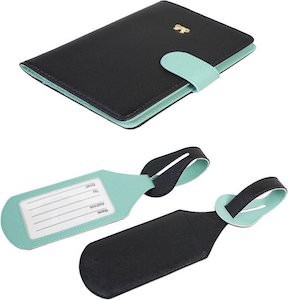 Now you can have a passport cover and luggage tag set that looks the same and just is nice.
The set is available in many fun color combinations and includes two luggage tag that have rounded edges and a passport cover that blocks RFID and even has room for a pen, notes, and cards so that you have everything handy when you are traveling.
Never having to worry about damaging your passport and even about people electronically stealing your identity will bring you some peace and traveling is stressful enough any ways.
You should click the picture above to see all the options of this travel set.