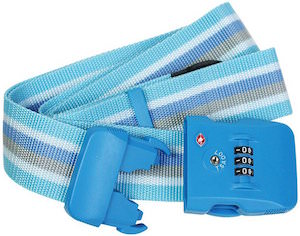 Luggage straps are a great way to keep your bag closed and secure and they are also a great way of making your bag easier to spot by you.
This luggage strap is blue strips in different light blue things and on the end a blue buckle that has a combination lock that is TSA approved so that you can add a bit more security to your suitcase.
Now you luggage that looks like all the others be more unique because of the fun colors and stripes of this bag strap.
I never travel without a luggage strap and it saves me a lot of time spotting the right bag at the baggage carousel.