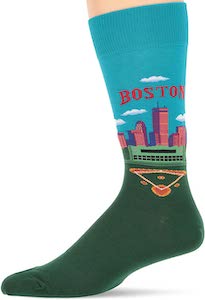 Now you can be wearing these Boston Socks and show the world that you like the city of Boston.
And these men's socks are sized 6 -12 and will look fun on women too.
The socks have a green foot and a light blue top and the green is also part of Fenway Park the home of the Boston Red Sox and above it you can see the skyline and the name of the city Boston.
Socks like this are great for tourist and anyone that likes the Boston Red Sox or even the amazing city of Boston and the  history and all the things to see.