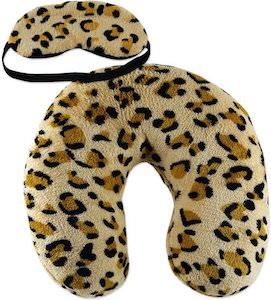 If you are looking to take a nap on your next trip then of course you need a great looking travel pillow.
And if animal prints is you thing then this travel set could be perfect for you.
The set includes a travel pillow and an matching eye mask. And the travel sleep set comes in Cheetah, Jaguar and Snow Leopard print.
So just pick your favorite animal print and be ready to start dreaming of your next trip.
Now you can travel in style when being comfortable with this neck pillow and eye mask when you try to take a quick nap before you holiday starts.