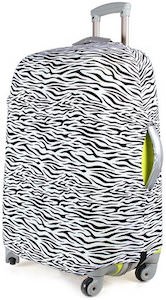 Do you worry about people getting in your suitcase to easily and maybe about the damage your suitcase can get while traveling?
A suitcase cover can solve both those problems and make you suitcase easier to spot to when it arrives at the baggage carousel.
This suitcase cover has a fun zebra like print and that will stand out while it's around you suitcase.
The cover is stretchy and leaves wheels and handles open so that you can use you suitcase like you are used to. And this suitcase cover is available in many sizes so that it will fit Small, Medium or Big suitcases perfectly.