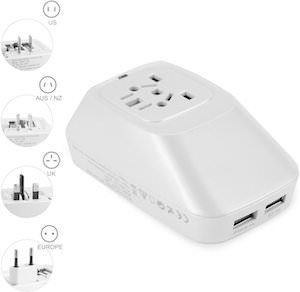 If you travel the world you know that power sockets are different in many countries and even the voltage differs and that is why you need this travel charger from Yubi.
The travel charger offers a plug on one side while the back has 4 different plugs hidden inside ready to pop up when you need them. There are US/EU/UK/AU plugs and that will cover you for more than 150 countries. There are also 2 USB ports build in so that you can use that to charge your phone, tablet and more.
And as a good travel charger, this one will cover voltage from 120 – 240 volt.