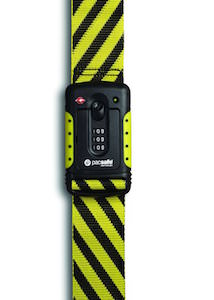 Luggage straps are a great way to add come security to your luggage and make it easier to spot.
And now there is the Pacsafe luggage strap that has a yellow and black striped design that of course stands out on a black suitcase making it super easy to spot on that luggage carousel.
And then there is a combination lock that is TSA approved so that you can use it almost anywhere in the world without having to worry about a cut strap.
No more accidentally opened suitcase because the strap keeps it close and easy to identify.