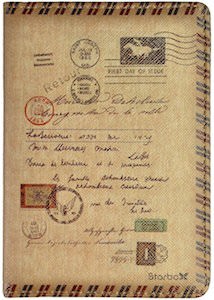 Now you can protect you passport from damaging with this passport cover.
The passport cover is made from pu leather and on the outside looks like a vintage envelope with stripes on the edges and lots of other fun details.
On the inside there is room for your passport and there are also some other pockets that you can use for credit / id cards and even one big enough for your boarding pass.
No more worries about folding or hurting your passport in other ways because this cover will make sure that it stays as new and it's also easier to spot in a pile of passports because yours has a nice cover.