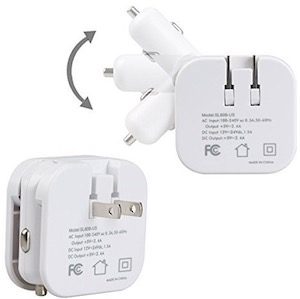 Now there is the perfect USB travel charger that you can take in your luggage to be always ready to charge your phone or other devices.
This USB charger has two ports for charging and each will offer 2.4 amps.
Besides the USB ports you need power to power them and this charger offers a normal two prong home power connector and it also has a 12 volts connector for using it in the car and both connectors fold down so that it is a flat box when not in use so that it doesn't damage things in your bag.
With this USB travel charger you are ready to charge at home, hotel, rental car or even the airport.