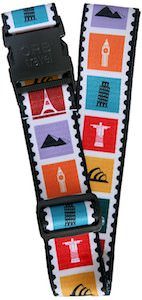 Now there is a luggage strap that also shows you famous travel scenery like the Big Ben, Tower of Pizza, Pyramids and much more and that makes this suitcase strap more fun and perfectly on the topic of travel.
The luggage strap is made by ORB Travel and is 2 inches wide and 70 inches long and it is easy to adjust the size so that it fits your luggage snug and perfect.
With a strong luggage strap like this, you have to worry less about your suitcase loosing stuff and it is also way easier to spot your suitcase when it comes down the luggage belt at the airport.