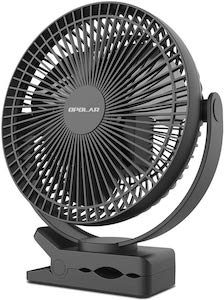 Now you can have a cool breeze where ever you go all thanks to this Travel Fan With Clip And Battery Power.
This fan is superhandy for a car ride or for in a tent as you can take it anywhere as it runs on a build in battery that will keep the fan running for up to 24 hours depending on the speed you select.
And to make this portable fan even better they gave it a big clip that is flat on the bottom so you can place in on a flat surface or you can clip it on to things to make it blow in the perfect direction for you.