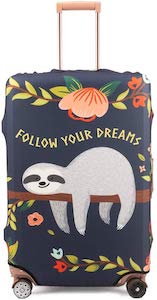 Now you can travel in style all thanks to this Sloth Follow Your Dream Suitcase Cover.
Sloths are really good at sleeping and I am sure they have amazing dreams they want to be true and maybe the dreams are about traveling.
This suitcase covers shows a sloth dreaming away on a branch and he is surrounded by some other branches and flowers and also the text "Follow your dreams".
And besides looking stunning it is also really useful as this suitcase cover is made to protect your suitcase from damage and also keep people out of you luggage and making it so much easy to find on the luggage belt at the airport. You can get this sloth suitcase cover in many sizes and it is really flexible to fit snug around you suitcase while keeping wheels and handles available for use.