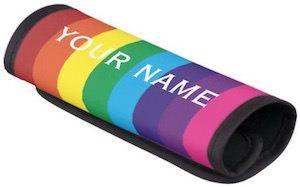 Some suitcases and bags are just have horrible handles that hurt your hands when carrying and for those situations they make handle wraps and now there is a rainbow handle wrap that even can have your name on it.
The handle wrap has lines of color just like a rainbow and then on top there is space for you name if you want (no extra cost) so that it becomes easy to spot you luggage.
The rainbow luggage handle wrap is made from neoprene and connect by velcro so that it is comfy to use and connected in a way you won't loose it.