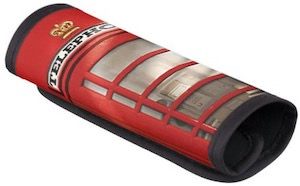 If your bag is a pain to carry then you should check out this Telephone Box Handle Wrap.
This handle wrap is made from neoprene with velcro to keep it in place and that will make it so much better to carry your bags.
The handle wrap has a picture on it of a red telephone boot the classic phone boot you may have seen in movies or on pictures.
Not only will this handle wrap make it easier to carry a suitcase or bag it also makes it easier to spot your bag because not many people will have a phone boot handle wrap on their bag.