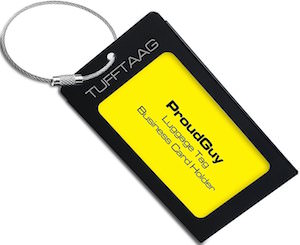 If you travel a lot then you know that luggage tags can get easily hurt by all the traveling.
But if you want something strong then we found you that.
This Tufftaag is made from aluminium and even has a metal strap so that it will last a lot longer.
Available in black, red, pink and silver this luggage tag can be the last luggage tag you ever buy.
And inside you can just put a business card or used the included template. All you info is stored behind a clear plastic film.
And when you buy this luggage tag they even give you a PDF template to print a nice info card for in the luggage tag.